Office Move Checklist
When preparing for a business-related move, it is a good idea to have an office relocation checklist handy so you can stay organized throughout a fairly chaotic process. If you don't know how to start planning an office relocation, refer to the office move checklist below as a way to get started.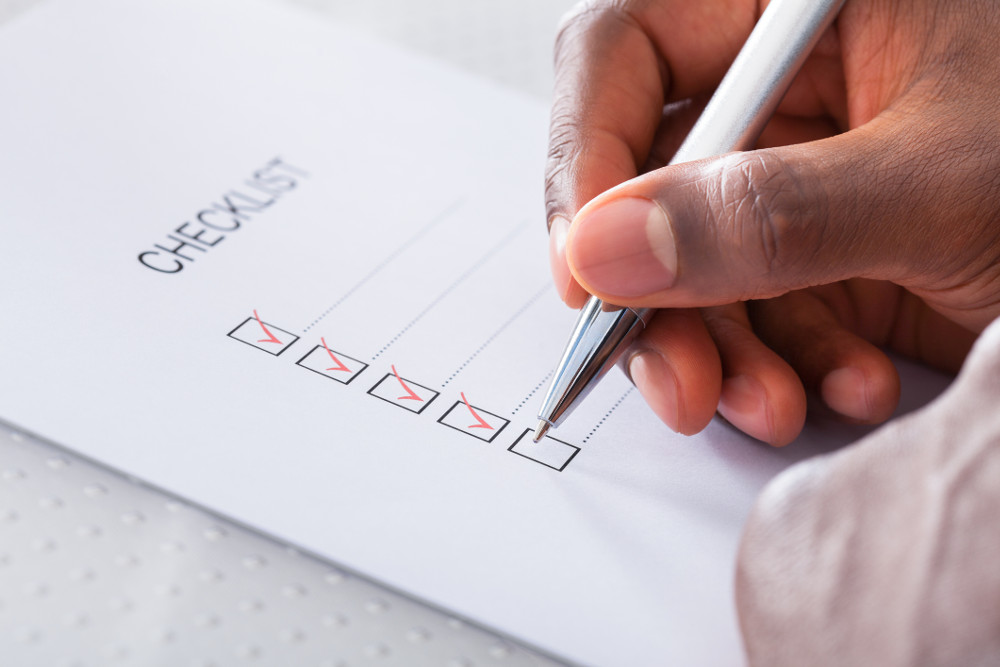 Six Months Before the Move:
Download our printable office moving checklist so it will be easier for you to keep track of the office relocation process.
Create a planning team. Assign each employee on the team a role that is key to the long-term office move project plan. One member of the planning team should create and maintain an office move checklist.
Set your moving date. A move on Monday gives you the entire week to unpack and settle in, while a move on Tuesday allows you to make any additional last-minute preparations before the day of the move.
Based on the planning team meeting, make a printable office move checklist that can be distributed to your employees as needed. Place this checklist on your shared drive or cloud storage so employees can retrieve it and refer back to it as needed.
Schedule a walkthrough of your new space. This will give you an idea of concerns you should bring up to the office movers you work with. It will also give you an idea of things you need to include in your office move checklist template.
Determine the details of your new telecommunications infrastructure. You should know where the phone lines and computer ports in the new office are and make sure everybody can hook their equipment up. If you need to contact an electrician or telecommunications company, add this to your business relocation checklist.
Research office movers in your area. This should involve reading customer reviews and checking business history whenever possible.
After choosing a moving company, request to see a copy of their company license and insurance before making a final commitment.
After you find an experienced and trustworthy moving company, review your office relocation planning guide with them so they can help you further revise your office move checklist.
Four Months Before the Move:
Take a complete office inventory and determine what equipment can be discarded. Sell or dispose of these objects prior to the final move.
Look into storage space options for equipment that doesn't need to be unpacked immediately following the move. Storage units should include good security, 24-hour access, and climate control to prevent damage to electronics and other fragile items.
Consider the logistics of large pieces of furniture or equipment that might be difficult to move. Consult with the moving company about ways to transport these items and make a note of the solution on your office moving checklist.
Prepare a budget spreadsheet to track moving expenses. Be sure to provide as much detail as possible in case you need to do an audit of your expenses later on.
Determine how much time each person needs on the day of the move. Notify employees that they should plan to spend that much time working on the move. If any employees are not involved in the moving process, have them make arrangements to be off-site or to work from home on the official moving day.
Three Months Before the Move:
Meet with your moving planning team to review your office move checklist and make sure that everything is on track.
Schedule a walkthrough of the new space to make sure that you have measurements and logistics accurate. Make sure that your entire planning team can be there, and invite personnel from your moving company if possible.
Consult an electrician to make sure that your power needs in the new location are adequate for your business. If additional outlets are needed or existing outlets should be moved, have the electrician install them well ahead of time.
Finalize the floor plans for the new office. Make sure that everybody has a space that meets their needs.
Speak with your office movers to secure boxes and packing materials well ahead of your move.
If the new space is local, take time to tour the area every few weeks. Make sure to note important landmarks, nearby eateries, and other things that might be relevant to your office environment.
List all the utility companies with which your business has accounts. Ensure that they are able to provide service to your new location.
If you are moving to an area not covered by your current utility companies, begin compiling a list of all available companies in the new area.
Two Months Before the Move:
Speak with your utility companies and make sure that they know the exact date when service should be transferred from the old site to your new office space. If you need to change any utility companies or services, note this on your checklist for moving office premises.
Order new stationery and print products with your new address and contact information on them.
Schedule service for your copiers and other electronic equipment to make sure they are in good working order. If anything needs to be fixed or replaced, note this in your internal office move checklist template. Report the results of this service to your office movers so they know what condition the electronics are in.
Schedule a meeting with your moving team to provide them with a status update. Bring your business moving checklist template with you. Afterward, provide an office move checklist for employees that updates them with any timeline or task changes.
Make a list of new purchases and supplies you will need during your first week in the new office. This allows you to have your first supply order ready to go and removes one of the oft-forgotten things to consider when moving offices from your to-do list.
Discard any items that you do not plan to keep in storage or move to the new site. Make a note of items that have been discarded in this manner so you know what happened to them later on.
Determine insurance needs for expensive equipment, especially electronics. Make sure to purchase an insurance policy for these items prior to your office move.
Ensure that all employees involved have the most recent and updated copy of your moving checklist.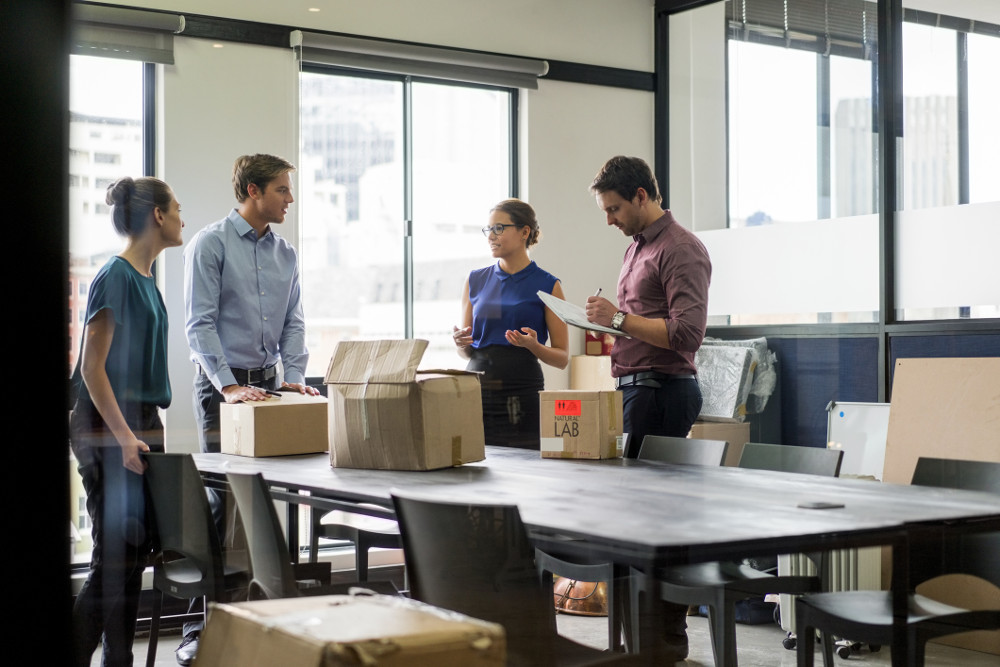 One Month Before the Move:
Designate a space in your current office building where packed boxes and ready to move furniture can be kept leading up to the move. If you don't have such space on premises, consider looking into a storage unit that can serve as your staging area. This unit should be separate from the one where you keep items that will not be moved immediately.
Notify all of your suppliers about the upcoming address change, including where they can find your new office and when the change officially goes into effect.
If your public contact information will change, let your customers know by posting the information on your website and social media channels.
Have your moving planning team meet with the office movers again to discuss the logistics of the upcoming move and make sure everybody knows their role on the big day.
Take photographs of expensive equipment for insurance purposes.
Drain fluids from office machinery which you plan to move but won't be using over the course of the next few weeks.
Ensure that you have all the warranty information for computers and other expensive machinery. Scan these documents and save them on your shared drive or cloud storage system for reference later.
Take the time to repair minor damage in your current office space, such as holes in the walls from posters and bulletin boards. If you rent your current space, this can be an essential step toward getting your full security deposit back.
Three Weeks Before the Move:
Speak with any building managers or adjacent offices in both your current and future space to make sure that they are familiar with the logistics and that your office move plan presents no major disruption to their own flow of business.
Order keys and/or identification cards so all your employees can access the new premises. Make sure to provide a copy of these keys to the office movers for the day of the move.
Schedule a walkthrough of both your current and future space with your office movers to make sure that there are no potential obstacles you didn't notice before.
Confirm the phone and computer line installation plans in your new space with the utility company you chose.
Two Weeks Before the Move:
Request a list of packing tips and guidelines from your office movers.
Have your employees pack up all items that aren't absolutely essential to the next two weeks of business operations.
Pack up all wall hangings unless they are absolutely essential to business over the next two weeks.
Gather up all loose electronic equipment and power cords. Box these together so they don't get scattered during the move.
Contact the post office to ensure that all business-related mail will get forwarded to your new address beginning on the day of the move.
Make a list of periodicals and professional magazines that your company receives, either for professional purposes or to keep in the waiting room. Complete a change of address form for each of these periodicals.
Order additional boxes, packing tape, and other packing supplies if necessary.
One Week Before the Move:
Finish organizing and packing all your supplies.
Pack fragile items carefully, using additional packing paper and bubble wrap as needed.
Contact your office moving company if you start to run low on packing supplies.
Label all boxes clearly based on the location they need to go in after the move. If you have color-coded labels, use those to make sure that your office movers can find an item's location at a single glance.
Label all furniture based on who it belongs to and where it needs to go. If you are using color-coded labels, make sure that the colors on the furniture match the colors on boxes bound for the same destination.
Visit the new office site and ensure that everything looks in order for the impending move.
Communicate the expected move times to all employees, along with information about disruptions in work schedules and the amount of time you expect it to take to unpack the office.
Scan and save your business license and other important documentation so it can be retrieved later.
One Day Before the Move:
Finish packing all boxes and labeling all furniture.
Arrange packed materials in order of what should go on the moving truck first. Remember that the things that go on the truck first will be the things your office movers put into the new space last.
Update your website and social media channels with your new contact information.
Share the final layout plans with both your employees and the movers who will be helping you.
Arrange parking so the moving truck and any assisting vehicles can park in front of both your current and new office buildings on the day of the move.
Make sure that any personnel who are not essential to the move have the day off or will work from home while the move is in progress.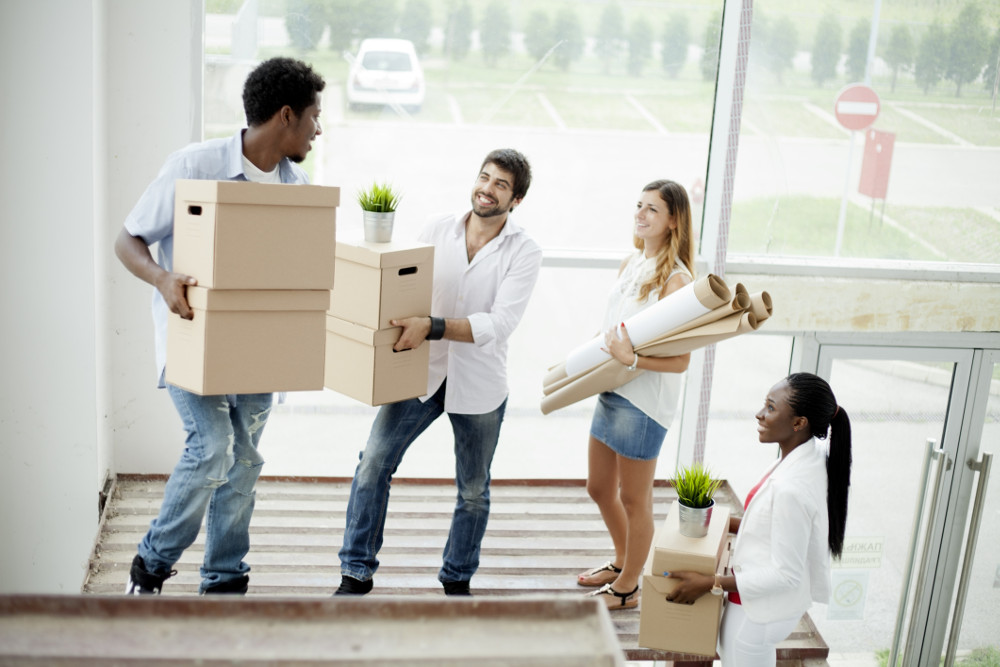 The Day Of the Move:
Meet your office movers early to get a quick start on the day.
Move all boxes and furniture to the new office building.
Arrange unloaded boxes and furniture in the appropriate room for unpacking.
Install phone lines and computers.
Check your office moving checklist and floorplan to make sure you have the correct layout.
After the Move:
Unpack all boxes as quickly as possible.
Rearrange furniture as needed to accommodate the new space.
Double-check with utility companies and suppliers that they are delivering items and services to your new address instead of the old one.
After you have completed unpacking, make arrangements to retrieve additional equipment stored in off-site storage units.
Return any excess packing material and boxes to the moving company.
Provide feedback to your office movers and write a review to let others know how the experience went.
info@alberta-movers.com