Your Choice for Corporate and Office Moves Anywhere in Alberta!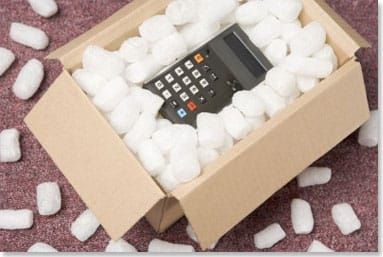 There's no such thing as a standard corporate move. At Alberta Movers, we understand that. Thanks to our over three decades of experience, we understand how to manage corporate moves locally or across the country.
Our network allows us to plan such moves so that there is a minimum of interruption in business function. We can arrange moves during the evenings or over the weekends with ease. Our coordinators assess the particulars of each move, come up with a plan, and determine what is needed in the way of personnel, supplies, and equipment.
You can begin the process of planning your office or commercial move by clicking here or using the form found on the left.
Packing and Labeling Tips
These tips will help make the relocation simpler and easier to manage:
Desks and Credenzas: Place labels on the top, as these types of furniture are typically moved on their sides. Remember to remove and pack all files and other contents.
Filling Cabinets: Pack the contents and place a label on the upper right corner.
Copiers: Consult the service company before assuming you can move the copier. Your warranty may be declared null and void if anyone other than the company handles the move. Assuming that you are allowed to utilize a mover to relocate the copier, remove all ink or toner cartridges and paper. Place a label on the top right corner.
Appliances: Remove and pack all loose pieces. Label the top front right corner.
Boxes: Boxes should be full but not overcrowded. Use filler as needed. Tape both sides to ensure the boxes are sealed. Label boxes only on the side for easy viewing by our movers.
Bookcases and Storage Cabinets: Remove all contents and placed them in boxes along with the bookshelf pegs. Label the removable shelves and place them in the bottom of the case. All storage cabinets should be labeled on the front right corner.
Tables and Work Benches: Clean all surfaces prior to the move. Label on the top surface area.
Computers: Leased equipment should not be moved without notifying and consulting leasing agent. Your office team must disconnect all equipment owned by your company. Personal computers will be blanket wrapped and packed into commercial moving bins by the movers. Label each piece of equipment with the employee's assigned number.
Delicate Material: All delicate items must be prominently marked as fragile. This ensures special handling during loading, unloading, and transit.
Office Furniture Disassembly: Our team will disassemble most types of office furniture. Partitions and some other furnishings may require specialized services such as an electrician or professional assembly and installation services.
Metal Shelving: Remove and pack all items from the shelves. Consider disassembly for more efficient transport
Employees: Have employees box and remove all personal belongings. They will be responsible for transporting those items to the new location.
Labeling: Assign numbers to each work area to identify the workstation and the employee. For example, 28 may identify a specific department, while adding a 6 identifies the furnishings and materials that compose a specific workstation. Label everything, even if doing so seems to be unnecessary. Items with no tag or label will not be moved.
Call Alberta Movers and you'll know that your Edmonton or Calgary move is in the right hands.
info@alberta-movers.com